Details

Written by Audrey Sauble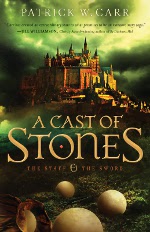 Some people want desperately to catch other people's attention.
Some people—Errol Stone of Callowford, for example—just want to be left alone, to be forgotten and to forget.
 
Not yet nineteen, Errol already knows how to forget, and to hide behind the ale pot. He's quite good at it too—until a church messenger hires him to carry a message to an old hermit, and a simple errand drags Errol into an intrigue, a conspiracy, and a deadly plot.