Details

Written by Emma Engel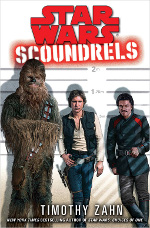 I've been looking forward to Star Wars Scoundrels since I first heard about it, and if you read my review, http://myrdan.com/index.php/reviews/book-reviews/53-star-wars-scoundrels-timothy-zahn, you know it didn't disappoint. Now we are very pleased to offer a giveaway copy so a random reader can enjoy it too! If you haven't read Star Wars books before: don't worry! This is one of the few novels that doesn't require anything other than watching A New Hope to understand. And it's signed by Timothy Zahn! The giveaway runs through January 28th, and I'll announce the winner here on the 29th.
Due to technical issues with the giveaway that kept it from working for the first five days, I am extending the deadline to the 31st of January and will announce the winner February 1st.