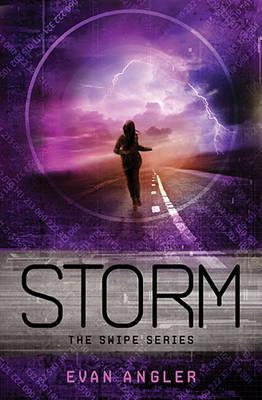 Evan Angler has annoyed me.
About two months ago, I sped through his first two books, Swipe and Sneak. The ending of the second left me hanging, waiting in suspense for the third book—and the end of the story, I though.
Now, finishing Storm, I've found there is still more to come, and the suspense is as high as ever.
In the first two books of the Swipe series, Logan discovered the secrets behind the Mark process, and then behind the government's secret prison. Along the way—and on the run from DOME agents—he learns some other things aren't as he expects them.
Now, after those breath-taking, and gut-churning, discoveries, Logan learns another secret. The virus meant to control the Unmarked has started to attack people. And, it's the Marked that are getting sick, including Logan's friend Erin. There's no known cure, but there maybe someone who can help, far out in no-man's land.
There's also another minor problem—a problem in the country's midlands, where crops are dying from the drought. After the disruptions of a global war, natural rain is almost unheard of. So, the government has to manufacture rain—and the scheduled cloud-seeding is far behind schedule.
Like the first two books, I enjoyed Storm for its action. Some of the characters seem a little flat still, but reasonable for a YA novel. The speed of the plot also doesn't leave much time for lingering on any character or incident, but Angler creates a very convincing dystopian world. He spends some time on both the suppression of religion in this peace-seeking American Union, as well as its gradually rediscovery and spread—connected to a few faithful and the new underground movement.
Other highlights—in the previous books, I appreciated how Angler explains the development of the new world order. This time around, I enjoyed his version of a West-Coast tech industry as far out in many ways as Silicon Valley is today. And, Angler himself makes his own cameo appearance this time around.
You might not have to read the first two books to understand the plot for Storm, since Angler does a fair job of retouching his characters here, as well as moving the action on at a fast pace. At the same time, you probably would miss out on some of the story. Besides, for YA dystopian novels, they're worth the read. I'd say the same of this one.
Other Participants: