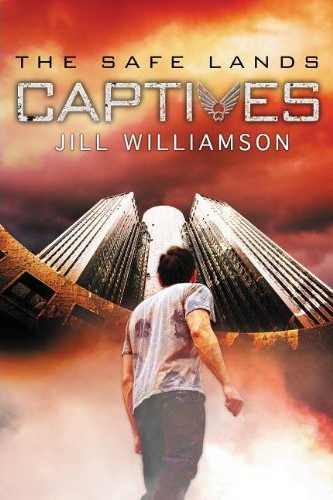 A common trope in fiction—or in fiction How-Tos at least—is the idea of the likeable villain. Nearly every writing book I've ever read has argued that villains should not be totally evil. Sauron aside, even the worst of villain should have some redeeming qualities—something that holds readers in suspense. There should be some trait, some lingering sense of good, that makes it possible for the villain to be redeemed, or at least for readers to hope for his redemption. Usually, according to the books, this means making the villain like kittens.
Writers find this a hard challenge to pull off, however. As a writer, when I need a destroyer for my stories, I sometimes struggle to invent a villainous character, much less one who is both evil and likeable.
In Captives, Jill Williamson creates a couple typical bad villains—people who are just going to rule the world their own way, without caring what other people think. But Williamson tells the story through five different narrative threads, five different narrators, each of whom struggles with liking, or not liking other characters, or not being liked. One of these characters puts a tragedy into motion when he allows his need for acceptance to cloud his judgment.
Omar is the kid no one likes—he doesn't fit into his hunt-for-survival society; he doesn't have his brother Mason's ability to tune out the insults. In fact, he wants to be an artist. He also wants his father to respect him.
When Omar accidentally runs into a Safe Lands' enforcer, he's not planning to betray his family or his community. He's just curious about that other place, that place where there is so much more color and vividness in life. After his brief visit to the Safe Lands, he counts on his family thanking him one day for bringing them to a better life. He can't understand why things have to go wrong, or why everyone is so upset with him for the change.
Perhaps the term isn't so much likeable as understandable. For most of Captives, Omar makes a nuisance of himself. Where Mason knows enough about the Safe Landers' disease to protect himself, Omar lives in a world where right and wrong are muddied by what feels good and what makes sense. He's silly, and usually feels sorry for himself when it's only his fault, but I still hoped all through the book that Omar would realize what was going on. Even after he betrays his friends a second time, I still hope he'll make the right decisions.
Does Omar finally make the right choices? I can't tell you without spoiling the book, unfortunately. I'll just say that I liked Captives—and Omar—much better than I expected to. That's no trope.
Other CSFF Blog Tour Participants:
Julie Bihn Thomas Fletcher Booher Keanan Brand Beckie Burnham Morgan L. Busse Jeff Chapman Pauline Creeden Emma or Audrey Engel Victor Gentile Timothy Hicks Jason Joyner Carol Keen Shannon McDermott Meagan @ Blooming with Books Rebecca LuElla Miller Joan Nienhuis Asha Marie Pena Nathan Reimer Chawna Schroeder Jojo Sutis Jessica Thomas Steve Trower Phyllis Wheeler Rachel Wyant