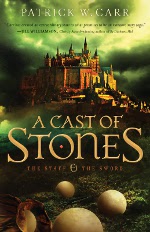 Some people want desperately to catch other people's attention.
Some people—Errol Stone of Callowford, for example—just want to be left alone, to be forgotten and to forget.
 
Not yet nineteen, Errol already knows how to forget, and to hide behind the ale pot. He's quite good at it too—until a church messenger hires him to carry a message to an old hermit, and a simple errand drags Errol into an intrigue, a conspiracy, and a deadly plot.
Back in February, I read a blog post by Patrick Carr, describing the writer's act of creation and mentioning his own novel, A Cast of Stones. The post intrigued me, as well as the premise for the novel, so soon after, I jumped at the chance to read the story myself. The rest was pure fun.
 
Throughout A Cast of Stones, Carr creates a world not far from what might be, reinventing the medieval church structure, and infusing his story with a very real degree of power, mysticism, and corruption. The story is heavy on details, in a good way. By the time the book is underway, barely through the first chapters, Errol has already stumbled into a crate of stones that carry writing only one other person can read, a renegade member of the king's guard, a church nuntio taught to repeat his message by rote and then forget it completely, and new cure for poison. Nothing is quite as it seems, Errol discovers. He can't trust even his friends to tell him the truth.
Carr's A Cast of Stones is a very real world story, dealing with violence, some drunkenness and a little suggestiveness at times. When Errol first sets out, he is a pretty hopeless drunk, which becomes a key point in his character growth. He's also pretty sharp at noticing other people's looks and motives. I would recommend this book only for teens and adults, but I do recommend it very much. If you like fantasy, if you like action and suspense, if you like well-drawn characters, if you like the possibilities to be stretched, if you like a good story, this is a book worth reading. It's a book I'm planning to keep on my shelf and read again when I get the chance. 
[This review originally appeared at http://theloremistress.blogspot.com/2013/03/a-cast-of-stones-book-review.html]
A Cast of Stones -  http://www.amazon.com/Cast-Stones-Staff-Sword-Patrick/dp/0764210432/ (or some other link of your choice)
*The Hero's Lot- http://www.amazon.com/Heros-Lot-The-Staff-Sword/dp/0764210440/
Author Website- http://patrickwcarr.com/

Julie Bihn Jennifer Bogart Keanan Brand Beckie Burnham Jeff Chapman Laure Covert Pauline Creeden Emma or Audrey Engel April Erwin Nikole Hahn Jason Joyner Carol Keen Krystine Kercher Shannon McDermott Meagan @ Blooming with Books Rebecca LuElla Miller Writer Rani Nathan Reimer Chawna Schroeder Jojo Sutis Steve Trower Phyllis Wheeler Rachel Wyant